As an Amazon Associate we earn from qualifying purchases.
Are you ready to try something new to get your wardrobe wrinkle free? While ironing is a tried and true way to press and get rid of wrinkles, you can save time and effort by using a steamer. When you are ready to learn how to use a garment steamer, then you will be surprised by how quick and easy it is to learn and use.
How a Garment Steamer Works
A garment steamer comes in different shapes and sizes. The most basic steamers are either large and tall like a vacuum or are smaller like a pitcher of tea.
Both sized models work the same way. Inside of each steamer there is a water reservoir. When filled and turned on, the steamer will heat up the water. Once water reaches a certain temperature it will turn into steam and be lifted up through the tubes.
When steam reaches your clothes in a close proximity, the steam is tiny enough to penetrate the fabric and relax it's hold. This process loosens and gets rid of wrinkles.
The steam can also get rid of any foul smelling odors, such as body odor under arms or from sweat on the front and back. You never want to steam a dirty shirt, since this process can permanently set in stains, however dress shirts can be steamed to remove odor so that you don't have to wash them as frequently.
Don't Limit Yourself to Clothes
While a garment steamer is the perfect item to use on your clothes, you can also use it to gently wash a variety of other items. For delicate items that are expensive, such as an expensive push up bra or lace lingerie, a steamer can be a lot better than a washing machine. This, combined with hand washing, will extend the life of these delicacies. 
​It can also clean non washable items such as drapes and fabric furniture. You can use a small travel steamer around the house to clean things other than clothes, but it only holds a small amount of water and has a very limited reach.
A full sized model can stand on its own and has a long hose. This larger model also emits steam for about an hour so that you can use it on large areas or multiple items.
The Singer SteamWorks Pro is a good option when you are looking for a full size steamer. It runs for 90 minutes and includes a built in hanger for steaming clothes.
SINGER | SteamWorks Pro Garment Steamer, Heats Up...
GARMENT STEAMER: The SINGER SteamWorks Pro steamer heats up in just 45 seconds to provide 90 minutes...
ROTATING HANGER: The 360-degree collapsible rotating hanger and adjustable telescopic pole add extra...
REMOVABLE WATER TANK: The large capacity water tank is another great thing about the Steamworks Pro....
If you want to steam your furniture or drapes then there are a few pre steaming tips that you need to do.
First, if you can vacuum your couch or chair then you need to run your stick vacuum or an attachment over the furniture. This will pick up dirt, dust, debris and any dander that can get worked in when you begin steaming.
Next, pretreat any stains that you see. Steaming an item will set in stains, so take the time to remove all the stains that you see with a chemical cleaner or one that you can make yourself for furniture.
Once the stains have been removed them you can move onto the steaming phase. Make sure that your furniture can handle steaming, most can but it is a good idea to double check before you begin. You can also test a small spot to make sure it handles well.
How to Use a Garment Steamer
When you are ready to learn ​​how to use a garment steamer​​​, then go ahead and get it out and fill the reservoir tank with distilled water. Tap water will cause a quick buildup, which can be cleaned.
Once the steamer is filled, then turn it on and let it warm up. This will take about a minute. If you have used the steamer before then it may cough or choke a little. This is normal, if there is any water left in the pipes then the heating of the steamer will cough them out.
After about a minute you will notice the steam coming out is at a steady stream, this means the steamer is all heated up and ready to use. You want to give it the full minute to make sure the steamer is fully hot, that way you won't have to press your items twice.
For most fabrics and furniture you will press the top of the steamer to the item. Lift the bottom of the steamer up at a 45 degree angle, this allows the steam to escape, but keeps it at a concentrated level. Also the top of the garment steamer will act as a pressing mechanism.
After you finish steaming, your clothes or furniture will be damp. Let them air dry before use.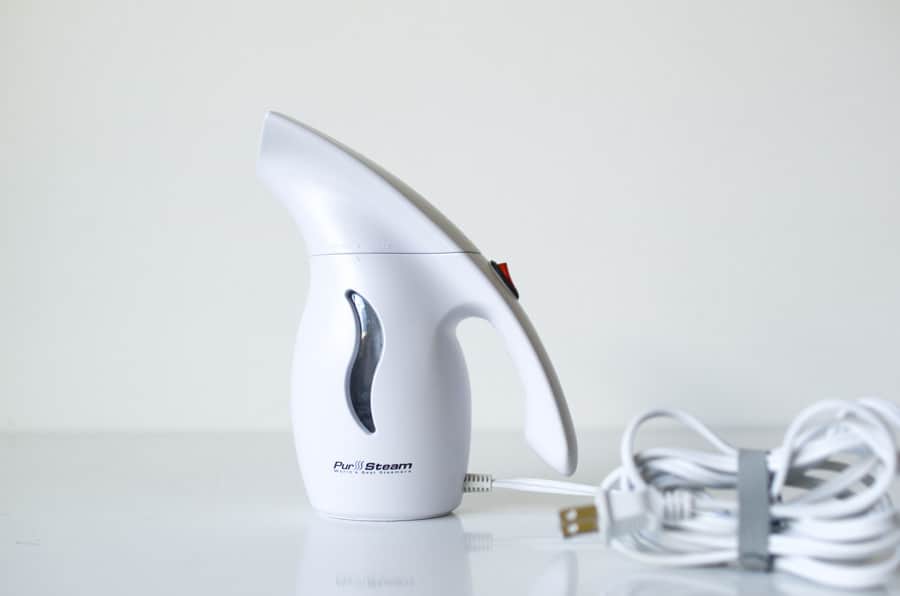 Make sure that your clothes are hanging on a rack and are clean before steaming. It's best to use plastic racks instead of metal, since the heat and damp from the steam can cause metal racks to rust.
If you are steaming clothes, then use your dominant hand to hold and move the steamer, while your other hand holds the clothing straight. When you pull your clothing down, this helps straighten out any wrinkles, while the steam penetrates the fibers to relax them.
To press a collar or cuffs, then lay them on a steam safe covered surface and press down as you run the steamer over each area. Steam inside and outside to make sure it lays right.
​​Convinced you might be needing a ​clothes steamer​ for you and your needs? Let us help you ​pick out the best one in the market.​​​
How to Clean a Garment Steamer
If you notice that your steamer is not putting out as much steam as it normally does, then it is time for a cleaning. Buildup can occur when you use tap or unfiltered water. The minerals in the water will buildup in the reservoir tank and through the tubing.
It is easy to clean your steamer, it just takes a little time. Mix a one part vinegar and three parts water solution and put it in the reservoir.
Turn on the steamer and let it run for one minute. Turn the steam off and unplug it. Let the steamer sit for thirty minutes, empty the reservoir and repeat this step.
When turned on, the vinegar will work its way into the steamer. When you turn it off, this lets the vinegar sit and eat away the buildup. You need to do this step at least twice, or until the steamer is emitting the normal amount of steam.
To finish, fill the tank with hot water and let it run for a few minutes to clean out the vinegar.
Unless you are cleaning it, you don't want to add anything other than water to your steamer when using it. This can cause buildup and issues down the road.
​Conclusion
Steaming your clothes and furniture is a great way to get rid of odors, bacteria and can straighten unwanted creasing or wrinkles. Now that you know how to use a garment steamer you can refresh your clothes and your home.