As an Amazon Associate we earn from qualifying purchases.
Short-sleeve shirts are a staple of any wardrobe. Whether you have nice dress shirts or simple lightweight t-shirts, you should know how to fold a short-sleeve shirt. This ensures you are keeping your shirts maintained in the drawer and wrinkle free.
​How to Fold a Short Sleeve Shirt
​Learning the right way to fold a short-sleeve shirt or a dress shirt will give you maximum drawer or shelf storage while keeping your shirts free from wrinkling. Follow these steps to learn how to fold a short sleeve shirt.
Lay your shirt out face down on a flat surface.
Smooth out any visible wrinkles.
Fold the two short sleeves inwards, creasing them at the sleeve's beginning hem
Next fold in the sides of the shirt, about 1/4th of the way into the body. Keep the folded side in a straight line.
Do the same with the other side. This fold cuts down on how wide your folded shirt will be.
Finally fold up the bottom of the shirt to the collar.
Depending on how you want to store your shirts, you can fold up the bottom one more time if needed.
For the best visible storage in a drawer, instead of folding your shirts on top of one another, you should try adding the extra bottom fold and then ​storing your shirts vertically​ and side by side.
This way when you open your drawer, you can see all the shirts you have available without having to dig and ruin already folded shirts.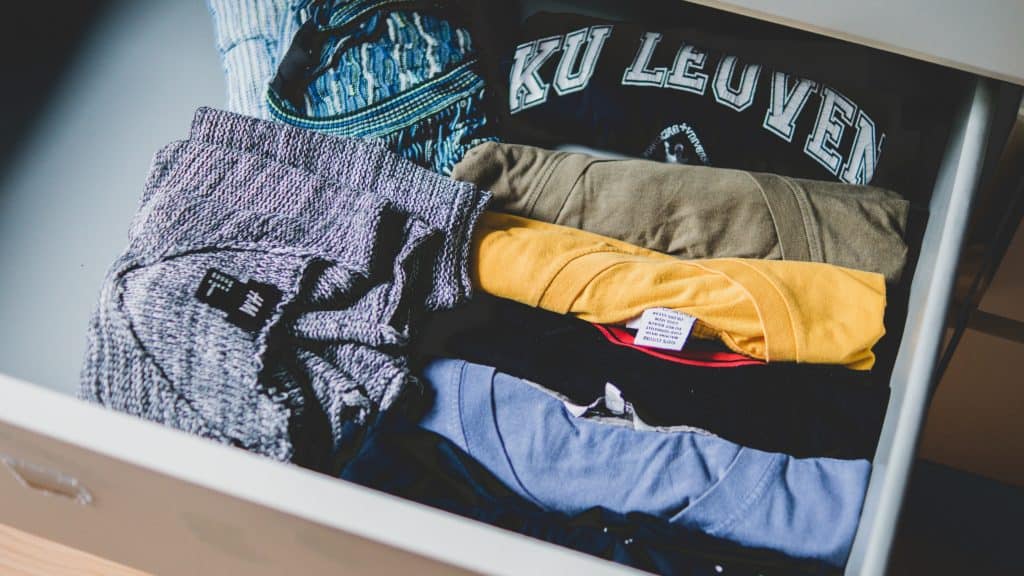 ​How to Use a Folding Board
​If you have a large pile of short-sleeve shirts or ​polo shirts to fold on a regular basis, you should look into using a folding board. Using a folding board not only helps speed up folding, but it also keeps your shirts folded to the same uniform size for neater stacking.
Many clothing and department stores use a folding board to speed up the dreaded folding process and to keep all the shirts in a uniform size. This is why the displays always look so neat and tidy.
​Searching for the perfect clothes ​steamer for your home? We've ​compiled a comprehensive review on the best one in the market.
Using a folding board is simple and gives you the same fold you would get from doing a standard fold. It just speeds up the process a little. To use the a folding board like the ​BoxLegend Plastic Adjustable Clothes Folding Board then follow these steps.
BoxLegend Plastic Adjustable Clothes Folding...
PP composite materials, high toughness materials, will not cause embrittlement by hot and cold...
Frosted design on the Folder board surface, good feeling, no need to afraid of sliding while folding...
Increase stripe design on the bayonet, adjust its thickness more effort
Open your folding board.
Lay your shirt face down on the board and center it. Some boards may offer a centering mark or outline for you to follow.
Fold in the side panels one by one to get the sleeves folded in.
​Lift the bottom panel to fold up the bottom.
Turn the shirt over and it is folded.
Using a folding board does not guarantee faster and better results. It is simply a new way to tackle folding. It works great for some people, while it slows down others.
​How to Do a 3 Second Fold
​Is a three second fold a reality? Well it isn't at first. Once you start getting into the rhythm of this Japanese-based fold, you can really go fast and meet the three second time.
If you want to shake things up in your folding routine, give this fun fold a try. It's especially great for ​folding shirts for traveling or anything that's quick and on the go.
Lay out your shirt, face up and smooth out any wrinkles.​
Keep the collar of the shirt to your left.​
Place your left hand halfway between the sleeve and the neck and pinch the top.​
With your right hand follow an invisible line down from you left hand to the middle of the shirt.
Lightly pinch up the shirt in the midsection and pull it a little, you should see the shirt make a small line that leads straight to your left hand​.
Make sure you are pulling up both layers of the shirt fabric in your pinch​.
Maintaining your grip on the two spots of the shirt, cross your left hand over your right arm, this will slide the top of the shirt down to the bottom.​
Once you reach the bottom of the shirt with your left hand, pinch the hem of the shirt about an inch or two in deep, to line up with the invisible line you have made.​
In this stance your arms are crossed, the next step is to simply uncross your arms while holding the three pinched spots. Do it slowly the first few times.​
As you are uncrossing your arms, lift the shirt up. You will notice how the shirt begins to look like it is being folded.​
Lightly shake out any wrinkles while the shirt is in the air.​ You can also steam it to make sure it doesn't have wrinkles.
Bringing the shirt back down to the table, let it rest on the sleeve that is unfolded.
Lower the remainder of the shirt so that it rests in a completely folded position.
This interesting folding method will take a few tries before you can reach the three-second timing. The first few tries will almost seem like a three-minute fold as you are learning the right places to pinch and hold.
If the instructions seem too difficult then you can try ​watching a video​ of someone doing the three second fold. With repetition, this fold will become muscle memory and can help you fly through your short sleeve shirt pile.
If ​folding really isn't your thing, ​ you can also opt to ​purchase an upright steam iron ​and simply hang your clothing to make storing a lot easier and simpler for you.
​Conclusion
While knowing one simple fold is good enough, sometimes the dreaded task of folding and putting away shirts can seem like the worst job there is. Learning how to fold a short-sleeve shirt in a different way can help bring a little fun back into the task and maybe even help you get it done faster.