As an Amazon Associate we earn from qualifying purchases.
ConAir is a well know company that creates many great and versatile products. The ConAir clothes steamer is one of its well-known and widely praised appliances. If you are wondering how to use a ConAir steamer, continue reading to see just how easy it is to learn.
Before you Steam
There are a few things you need to know and prepare for before you begin to steam your clothes. First of all, know your steamer and what it is and is not capable of. If you have a handheld steamer, it is good to know how long it will run before it needs to be refilled and reheated.
Stand up ConAir steamers, such as the No products found. will have a run time of about 90 minutes. The volume of clothes you need to steam will help you determine what type of steamer and size you need.
When you are ready to start steaming your clothes, make sure they are clean. Steaming clothes is not a way to clean them, unless you use a steam cleaner.
Steaming over stains can make them set in and be unable to be removed. If your shirt is clean, but has a strong smell coming from the armpit area, then steaming is a great way to take care of that.
The high heat from steam kills odor causing bacteria like under arm sweat and odor. A steamer is also a great way to clean things that cannot be washed, such as heavy drapes, fabric furniture, and even small carpet areas that need steam to kill bacteria.
How to Use a ConAir Steamer
When you are ready to start steaming, add distilled water to your steamer and turn it on. The steam will begin to come out quickly. However, you need to wait until it is putting out full steam and it is hot. This warm up usually takes about one to two minutes.
When the steamer is fully ready, you can begin to steam.
The proper way to hold the steamer is to have it at an angle. Place the steamer fully against your clothes, and then lift the bottom out.
This will keep the top part of the steamer touching your clothes, while the bottom angles away from the clothes. Steam will come out of the attachment.
If you hold it completely pressed against your clothes, the steam will not be able to come out. Also, if you hold the steamer too far away from your clothes, the steam will not be close enough to penetrate the fibers and straighten out wrinkles.
While one of your hands is holding the steamer, the other hand should be holding your item of clothing at the bottom. This way, you are holding the steamed area tightly.  The heat and pressure from the top of the steamer attachment will press it down and straighten the item.
While you are doing this, make sure you are keeping the hose of the steamer straight and not letting it tangle or wrap around anything. The steam will travel up the hose and any unnecessary bends will hinder the steam. This will also hinder the ability it has to get rid of wrinkles.
How to Steam Clothes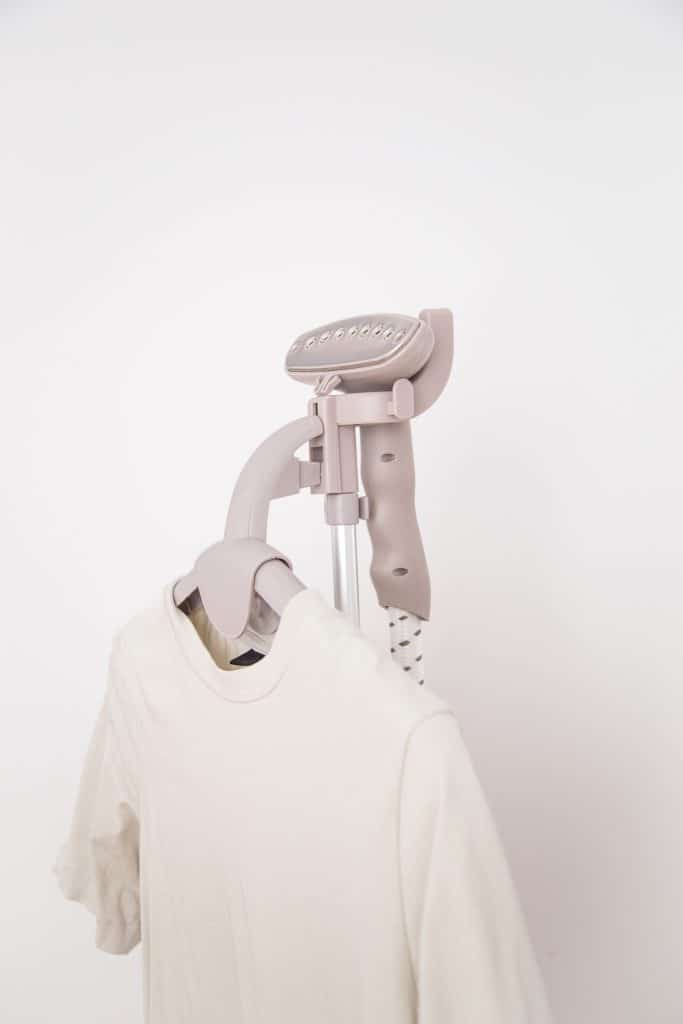 Like ironing, when you are learning how to use a ConAir steamer, you will steam your clothing piece by piece.
When steaming a shirt, you can use an included hand pad attachment to steam the collar and cuffs.
If there is no attachment, simply place the collar on a flat and protected surface. Then, steam it one to two times on each side. Do this also with the cuffs.
Then, work on the sleeves. Start from the top and steam down the length. Do the front and back, then move onto the body of the shirt.
Steam it up and down vertically. Do not go side to side as this will stretch your shirts.
If you have a shirt that has a decal, then it is best to steam it inside out to avoid damaging the design. Also, do not place the steamer directly on buttons, as the heat can damage, melt, or break them.
For pants or skirts, you can lay the waistband flat on a protected surface to steam it. For thicker materials, steam the inside and then outside of the waistband.
Steam the legs or skirt vertically down the length. A steamer will not crease your items by itself. Some steamers come with a crease attachment that can make a crease. However, it may not be as crisp as an iron could give it.
The crease attachment is great for the sides of pants and for steaming pleated pants and pleated skirts. Steamer attachments come with the larger upright steam machines, versus the smaller travel ones.
​Choosing the perfect ​clothes steamer​ to fit your needs isn't easy. That's why we've compiled this comprehensive ​review to help you choose the best one in the market.​​​
Cleaning your ConAir Steamer
It is recommended to use distilled water in your steamer to avoid mineral buildup. While you can use filtered water, it still has a small percentage of mineral deposits.
If you do not have distilled water, then you can clean your steamer as needed to keep it running at full steam. There is a simple DIY one-part vinegar and three parts water solution you can mix and put in the steamer to take care of any build up or residue.
To clean your steamer, place the solution in the water reservoir and turn the steamer on. Let it warm up and run for two minutes and then turn it off. This will let the vinegar penetrate into the device and begin to clean it. Let it sit for thirty minutes and then empty the reservoir.
You can repeat this method a few more times, or until your steamer is putting out steam as it should be.
Vinegar is a great cleaning solution for steamers because it is laundry safe and gentle on clothes. Vinegar is also a great wrinkle fighter by itself.
​Conclusion
ConAir Steamers are simple to learn how to use. Now that you know the basics of operating one, you can add steam to your laundry routine.