Are you still wondering why so many people are going for fabric steamers instead of the traditional hot iron? It is time to join the bandwagon and make life easier and comfortable for yourself.
In the past, getting our fabrics 100% wrinkle-free was a bit tedious and challenging, and at some time also, we ended up burning our precious delicate fabrics because the conventional hot iron lacked the features required to keep our garment safe and crisp.
The benefits of steamers over hot iron are numerous to mention. They can be used to remove wrinkles from the toughest fabrics you could think of, they are suitable for both home use and business trips, they are lightweight and portable, thus convenient to carry along to any locations, and finally, you can handle large number of laundry with less stress.
Among the numerous garment steamers we have in the market, one of the leading products that has been making waves is the Conair Extreme Steam Hand Held Fabric Steamer. A well-detailed review on this product is given below
Features
This is a dual heat setting steamer that can heat-up high enough to tackle any thick fabrics. It takes just 75 seconds to heat up which makes it faster to remove wrinkles compared to other products. Other exciting qualities of this steamer is that it kill bed bugs and dust mites making it very safe to use.
Below are some the features of this product:
Weight: 3 pounds
Dimensions: 5.8' x 7.8' x 12.8'
The dual heat system makes it hotter enough to penetrate thick garments
Powered by 1110 watts and takes just 75 seconds to heat up
Removable water tank
It can produce steam for 15 minutes when the water tank is filled
Comes with three removable components: creaser, cushion brush and fabric brush
Has 1 year warranty
Pros
Removes wrinkles from fabrics faster than other steamers
Just few seconds is needed before it is heated up
The removable water tank makes it easy to fill
It kills bed bugs and dust mites
Constant heat supply and regulatory features to pause the steam
It is versatile
It is easy and simple to use
It is portable and convenient to use
Cons
After long usage, it needs to be left for some hours before using again
The water tank needs to be refilled from time to time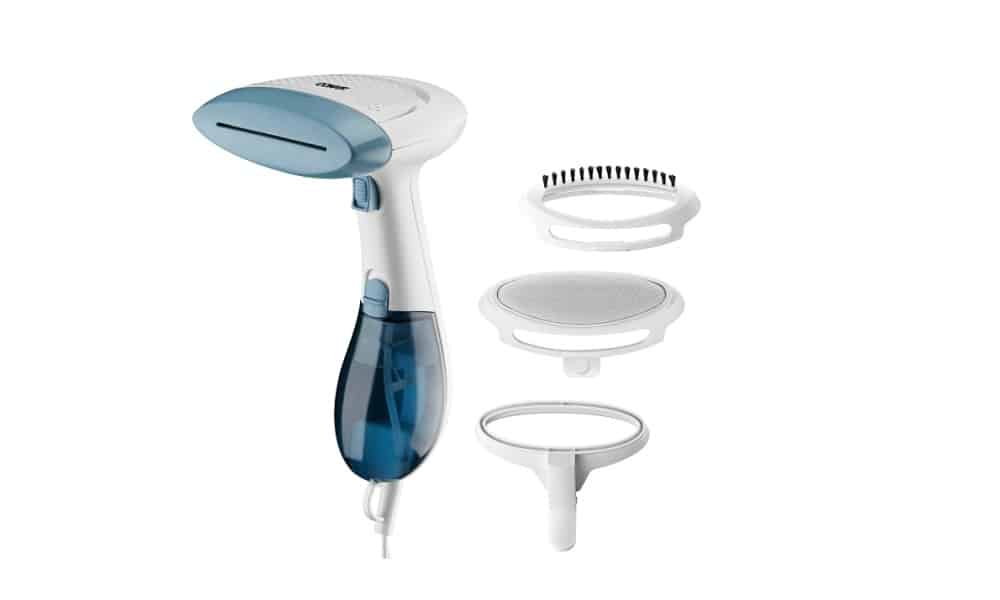 Summary
Fabrics steamer is a must have for every home because they do the jobs our traditional hot irons may not do properly. From the review above, if you wish to get one for yourself, the Conair ExtremeSteam fabric steamer is highly recommendable because it has all the necessary features you can find in a good garment steamer.
The Conair Extreme Steam Hand Held Fabric Steamer can be used when you embark on business trips and in homes due to its portability and lightweight. It removes wrinkles 5 times faster than other steamers due to the dual heat element that it's made up of. Apart from the fact that it tackles wrinkles 100%, it also kills bugs and mites which makes it one of the best wrinkle-free steamers in the market.
Comparison with other products
There are other products of fabric steamers that work pretty fine apart from the Conair steamer. Although they may not be as effective as it is, they render some similar features that makes them suitable for use. We shall be looking at two other types of fabric steamer with a summary of their features.
The Samsonite Garment Steamer
The Samsonite fabric steamer is a portable steamer that removes wrinkles from fabrics, and it is able to touch even the most difficult angles of your garments. It is easy and simple to use, and its light weight makes it convenient for use both at home or when you are on the move.
The not so interesting side of this steamer is that it is powered by 200 watts which makes it less suitable for tons of garments.
Joy Mangano Garment Steamer
The Mangano garment steamer has a large water tank that can store water for a reasonable period of time. It is powered by 850 watts which makes it get hot within a short period of time. Although it removes wrinkles quicker and faster, its heavy weight makes it less attractive to use.
Verdict
Comparing these two products with the Conair steamer, you will discover that the later has some outstanding features that makes it more appealing to use.
Unlike the Samsonite garment steamer which is powered by 200W, Conair Extreme Steam hand held fabric steamer is powered by 1110 watts which makes it heat up quickly. Also when compared to the Joy Mangano steamer, it is lighter and portable to be used at anytime and anywhere.